Lick FM Marbella online en directo
Cadena Situada en la Costa del Sol, Transmitiendo la Música de cuentos de Como Géneros Funk / Soul, Funky / Vocal casa, electrónico, Latina, Hip Hop, R & B y reggae / dancehall. Mostrar más
Lick FM Marbella es una radio online que emite desde Marbella y tiene un estilo muy Radios Hip-Hop,Radios música indie,Radios música Funk,Radios música Reggae
Interactua con Lick FM Marbella online y en directo:
Súmate a la experiencia Radiofy ! : Ahora puedes escribir directamente a Lick FM Marbella mediante sus twitter a la vez que escuchas esta radio. No te pierdas esta forma nueva de escuchar la radio, además te sumaras y podrás conocer a los demás oyentes de Lick FM Marbella en directo . Nada mejor que compartir la música y las opiniones en directo!
Facebook de Lick FM Marbella
Twitter de Lick FM Marbella
Última noticias de Lick FM Marbella
Radiofy es la única plataforma que se preocupa de darte las últimas noticias y publicaciones del equipo que hace esta radio realidad, aquí te adjuntamos los últimos tweets que están rompiendo en el twitter de Lick FM Marbella
Contactar con Lick FM Marbella ; teléfono sitio web y email
Radiofy también es una plataforma de comunicación, si quieres saber comentar, sugerir o simplemente ponerte en contacto con  Lick FM Marbella online puedes usar esta dirección:
Located in Marbella on the Costa Del Sol in Spain, Lick FM was launched as an internet station via www.lick.fm on 1st April 2007. It soon became the foundation for launching an FM radio station in the Costa del Sol, on April 1st 2008. Since then we have expanded our audience locally and globally by making a firm stand in delivering quality music and entertainment.
Dirección: Av. Luis Braille, 1, 29680 San Pedro Alcántara, Málaga, Spanien
Teléfono: +34 664 49 61 55
Email: [email protected]
http://instagramal.com/LickFM
Sitio web: http://www.lick.fm/
O directamente usando este formulario de contacto con Lick FM Marbella

Además te recomendamos ir aquí para escuchar cualquier radio online gratis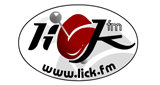 https://radiofy.online/wp-content/uploads/2019/05/Lick-FM-Marbella-online-en-directo-gratis.png
85
160
https://radiofy.online/wp-content/uploads/2018/12/RadioFy-Radio-Online-Gratis-e1544721223433-300x113.png
1970-01-01 00:00:00
2019-06-03 09:54:36
Lick FM Marbella online en directo